About HATs
Clare Valley Art and Music Events
HATs Volunteers
Are you interested in live music and the performing arts and helping to keep it vibrant and alive in Regional SA… Then you might like to join the Hats Team.
We are always on the outlook  for new Volunteers .Its a wonderful way to help the community and to help us "To keep the Music live at Hats Courthouse"  You can help in many ways.
Front of House
Bar duties
Café duties
Venue Set up /Venue clean up
Selling raffle tickets
Cleaning the Courthouse
Assisting with bump in /out for larger outdoor events
Sound mixing
Office admin/marketing /face book website
Working on special community/arts /projects
Where is HATs South Australia?
At the Hats Auburn Courthouse  4 ST Vincent Street Auburn 5451
How much time is involved?
Hats volunteers give as little or as much time as they are able (But be warned it can become addictive)
What are the benefits to me if I become a Volunteer?
Meet new people /learn new skills
Utilise your existing skills contributing to the local community
Be part of a team that is making a difference to music/arts culture in our area
Take on a new challenge and increase confidence and self-esteem.
Have fun and experience a whole range of art/music events.
At Hats we believe that when you volunteer in the arts you also experience the arts
What's the next step ?
Come to a performance at the Courthouse and see us in operation
Call our office on 8849 2420 and have a chat with us
Or complete the Volunteer participation form on this page and email it to us at admin@hatsincsa.com
What is HATs?
HATs ("Heritage Arts & Traditions") is an independent arts/events organization formed in 2011 to present live music performance and cultural events. We are based in the heritage town of Auburn Clare Valley. Hats converted an old historic Courthouse into a small regional live performance space complete with inhouse sound and lighting system. Hats was established to bring quality and affordable music /arts performance to the Mid-North/ Clare Valley, a region that is poorly resourced for both. We are the only such organization in regional SA and deliver between 25- 30 music performances annually plus other special events like an annual "Fringe in the Valley" season.
Hats specialize in presenting diverse musical genres as part of an Australian wide folk & roots touring circuit which has allowed us to present International and National folk/country/blues/world acts alongside SA performers. We are well recognized for presenting high quality music and have built a strong solid audience base. We have also produced 4 small music festivals plus two successful original music song writing projects. (Adelaide Songs) & (Songs of the Mid North)
South Australian Arts Not for Profit
HATs are an incorporated Not for Profit organization governed by an experienced Board of Management with wide experience in running live music events, arts projects, and festivals along with strong administrative, business, and financial management skills .We contract other professionals, as necessary and are further supported by additional people co-opted into the organization on a volunteer basis who assist with the running of our events. This model of operation is cost effective and always delivers a professional outcome.
Hats is a multi-award-winning organization having received 5 Awards to date and been runner up on two other occasions.
Ruby Arts Award 2013 (for excellence in the arts)
Prime Super Community Group of the Year Award 2013
State Winner Australia Day Community event of the year 2013
Regional Winner Australia Day Award 2013
Regional Winner Australia Day Award 2017
HATs Mission and Goal
Mission Statement To preserve, foster, promote and develop the Heritage, Arts and Living Cultural Traditions of our diverse Australian communities and to enhance the level of public awareness of the value of these cultural traditions.
Auburn Courthouse Cultural Centre
Described by" Warren Fahey OAM " as one of the best regional art/music venues in Australia ,this unique and welcoming venue set in an old historic courthouse oozes ambience now giving our "past heritage" a relevant "future". With comfortable seating for up to 100 people with/without tables fabulous acoustics inhouse heating for the chilly winter nights even an open fire and air conditioning for the warmer summer nights. A wine /cider bar operates at all our concerts with Clare Valley wines plus fresh coffee and our very popular homemade cakes.
Hats supplies in house sound, lights, and projection and a tech for most performances. Featuring performers from all around the world at the most affordable prices Hats is Clare Valleys best kept secret. Established in 2011 Hats is now a well recognised venue for delivering high quality music events into a regional area .For special larger events Hats utilises its outdoor garden area to accommodate larger events up to 250 people .With outdoor stage and special lighting effects these  summer concerts are proving very popular.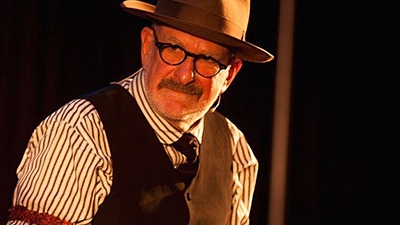 National Patron
Warren Fahey OAM is an Australian folklore collector, cultural historian, author, actor, broadcaster, record and concert producer, visual artist, songwriter, and performer of Australian traditional and related historical music.
He has been Hats Patron since 2011. Based in Sydney Warren visits SA and Hats regularly his last visit was in March 2020  with Max Cullen when they performed a sell-out show  "Dead Men Talking "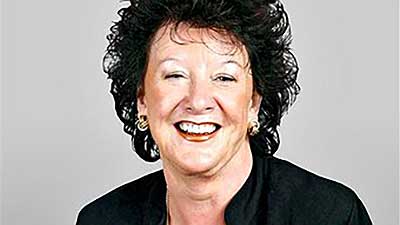 South Australia Patron
Carole Whitelocke OAM is a Columnist, MC and former radio ABC commentator
Carole has been Hats Patron since 2011. After thirty-two happy and roller coaster years with the ABC her standout experiences included introducing the Dalai Lama at the Entertainment Centre, broadcasting from a hot air balloon and swimming with Jock, the randy dolphin, in the Port River. Carole now writes a weekly column in The Advertiser Boomer and is a regular visitor to Hats in the Clare Valley.